Hands-free help? Google built-in has got you covered.

Your voice has some serious power. Take a look at how Google built-in compatibility gives you a next-level drive. 

Communicate hands-free. Get live traffic updates. Download some of your favourite apps and more. All thanks to Google built-in.*



Keep in touch with hands-free calls and texts. 

The connected services you want are made easy. Stay connected to family and friends, stay updated on incoming messages and calls, and quickly reply without needing to touch your phone.


Enjoy entertainment. 

With Google Play,* you can download some of your favourite apps directly to your vehicle just as you would on your phone. Conveniently access and listen to music, podcasts, audiobooks and more — hands-free.


Control vehicle functions with your voice. 

Simplify your driving experience by using your voice to control vehicle functions and get relevant information for your drive. Use Google Assistant* to control the temperature and defroster, check to see if you have enough fuel (or range if you're an EV driver) to get to your destination, and more — just say "Hey Google" to get started.


Stay organized. 

Ask Google to help you remember things and get information throughout your day. Stay informed with the latest weather forecast, upcoming agenda items and more.


Get where you want to go. 

Google Maps* is seamlessly integrated into your vehicle for a smooth and confident driving experience. Find the fastest route, get live traffic updates, discover nearby destinations and more. If you're an EV driver, you can get an estimate of how much battery charge will remain at the end of your route. Just say "Hey Google" or press the Push-To-Talk button on your steering wheel to get started.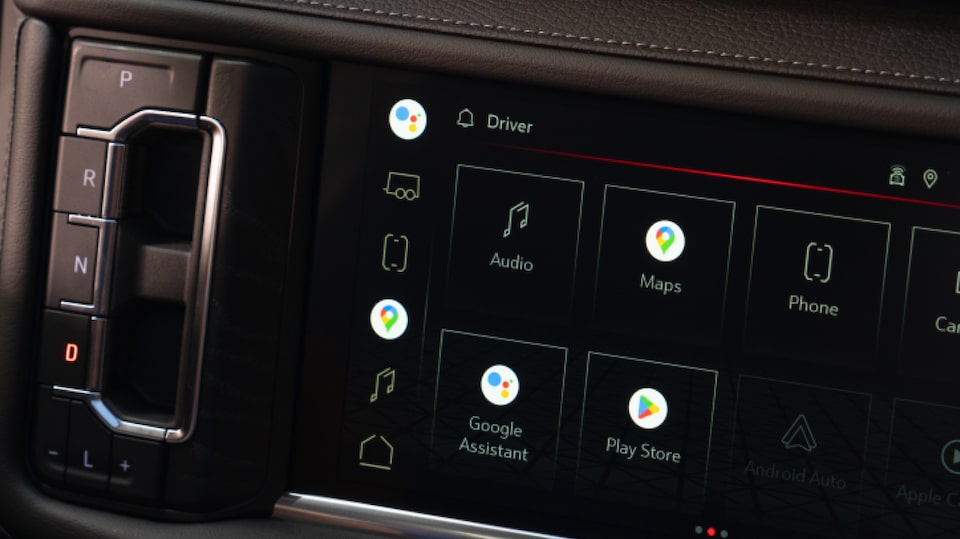 Save time with Quick Start Up

Get faster access to maps, music and voice commands. Quick Start Up is standard on select 2024 model year vehicles with Google built-in capability and coming soon to additional model years via free software enhancement.

Faster Start Up 

Quick Start Up allows your in-vehicle apps to load faster, so you can interact with them soon after the vehicle starts.

System Reboot 

Just like a smartphone, you can reboot your centre display. While in park, press and hold the END CALL button on the steering wheel for 15 seconds.


Connected Vehicle Plan highlights 


In-Vehicle Apps 

You want to stream Spotify,* Sirius XM*, access the Weather Channel* or available Alexa*? Get real-time traffic updates? Look no farther than your centre display.


Your car can Google 

Too hot? Too cold? Need directions? Want to call a friend? Say "Hey, Google." Google Assistant,* Google Maps* and Google Play* all work in your car.


Alexa, make my ride amazing 

Whether you want to change the radio station, get directions, find out if your Amazon delivery came or fill up your Whole Foods Shopping Cart, just use the voice button on your steering wheel to ask Alexa.*