Thinking of taking your summer vacation on the road this year? Here are some tips to get you started, plus ways OnStar and Connected Services can help during your trip

With millions of Canadians looking for alternatives to hotel stays and airline flights during the pandemic, there's a new type of vacation that has surged in popularity: towing a pop-up camper or camper trailer behind your vehicle. For travellers looking to indulge their wanderlust — assuming there are no stay-at-home orders in your hometown or your intended destination — it's a great way to still get out of town while avoiding hotels and airports.

It's easy to see why so many people are hitting the road when you consider the freedom this kind of travel affords you: You set your own schedule, stop and park wherever you like and more. And with the advancements in technology, comfort, convenience and innovation, it's like a luxury five-star hotel on wheels — one you can tow behind your own truck or SUV.

"We hear it every day from Airstream owners who are out there living and working and playing on the road — that it's the perfect solution for people who want to avoid planes, hotels, public restrooms, and crowds," says Bob Wheeler, president and CEO of Airstream, the manufacturer of some of the most iconic tow-behind campers on the road. "You have everything you need right there with you in the Airstream, and the freedom to go just about anywhere."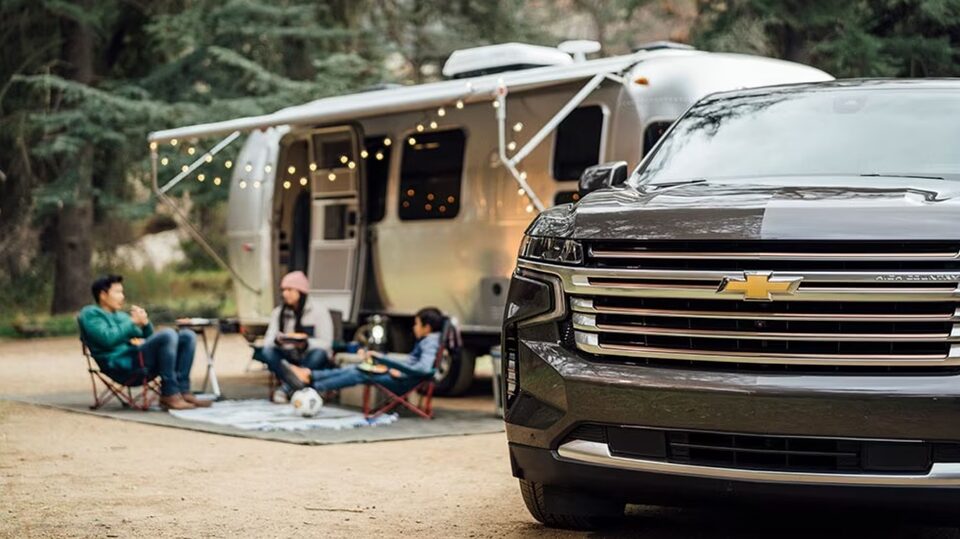 Nonetheless, the idea of packing up the family and taking to the road with your camper in tow can still seem like a daunting endeavor. So we got some help from an experienced camper, Kina Pickett. He and his family live full-time in their 19-square-metre 1971 Airstream International, so they have plenty of tips to help those new to the lifestyle.
Get out there, safely
One of the many reasons people enjoy travelling with their own camper is because they can wander aimlessly, with no destination in mind. But with wandering comes risk — unexpected situations on the road, getting lost and so on. Having OnStar* in your tow vehicle provides a little added peace of mind, because you know you can simply reach up and push the blue OnStar button if you need assistance. Plus, if you get a flat tire, run out of gas or experience another problem that requires a tow, you can easily request Roadside Assistance.*
If you're towing with a non-GM vehicle, though, you can still keep that added peace of mind thanks to the OnStar Guardian™ app.* It lets you bring key OnStar safety services with you, right on your phone. For example, Mobile Crash Response* uses the sensors in your smartphone to detect a crash and notify an OnStar Emergency-Certified Advisor.* You can also request Roadside Assistance from the Guardian app.

Another advantage of this type of vacation is the ability to set up camp a little way off the beaten path, so you can get out as a family and enjoy hikes, fishing, bike rides and many other outdoor activities. Here, again, the Guardian app comes in handy: With the ability to share the Guardian app with up to seven family members* and view and share locations* with one another on a map, you can keep track of where everyone is if family members split up.
Pack light, plan thoroughly
First things first: Pay attention to the COVID-19 rules and regulations in place at your intended destination. Different provinces, and even different municipalities, have varying rules about travel and other activities. And wherever you go, be sure to practise social distancing, use a mask and regularly wash your hands or use hand sanitizer.

Whether you're travelling by air, cruise ship, car or foot, proper packing is essential. And camping is no exception. While it may seem there's an endless amount of space in your temporary home on wheels, you'll find that it fills up fast if you don't pack smart.

"Less is more," Pickett explains. "Our first adventure, we massively overpacked. As it turns out, you don't need much when it comes to clothing. Make a list of where you're going and bring the basics for every situation and weather event: heat, cold, rain and mud. The same advice for sports: biking, fishing, lake and mountain gear."
Lock down your destination in advance

Anyone who's ever sat behind the wheel of a vehicle pulling a camper knows that the last thing you want is to be looking for street signs on busy or narrow roads. And a wrong turn can be a big headache if you have to back up a camper trailer. To avoid that, Pickett recommends researching your destinations prior to departure — both the campgrounds themselves and the routes to get there.

"Beforehand, we would make sure the roads and locations we were interested in are not closed due to the pandemic or construction," Pickett explains.
Fun for the whole family

Camping can be a great way for a whole family to vacation more affordably, rather than staying in hotels. And while the goal is to spend time outdoors, indoor entertainment options for the whole family are important, too. Pickett and his family bring games, books, drawing supplies, building blocks and even a micro projector. "We have movie nights when the weather is yucky," he says.
Dinner, alfresco style

When it comes to cooking, just keep it simple with single-pot meals. Stews, hearty soups and stir fry dishes are perfect for camping life. And it wouldn't hurt to invest in a few good pieces of cookware, as well as a slow cooker.

"We have been camping for a long time and already had a solid grasp on cooking outdoors and the supplies needed," Pickett says.

For some, spontaneous meals are just fine. But if you're not overly comfortable in the kitchen, you'll probably want to plan out meals and shop a few days in advance. Pickett recommends creating a supply list with basic food prep items and then coming up with specific meals. Of course, while all good camper trailers include an indoor kitchen, why not involve the whole family and cook around a fire pit outdoors, with kid-friendly and easy-to-cook treats like hot dogs and burgers? (And don't forget the quintessential camping treat: s'mores!)
Disconnect — but only if you want to
One of the great things about vacationing in the great outdoors is the ability to unplug: set up a hammock, grab a good book and unwind. But, as we all know, just because you're on vacation doesn't mean you won't need to check email or get online. Fortunately, with a data plan or Connected Services trial you can connect up to seven devices to your GM vehicle's available built-in Wi-Fi® Hotspot,* letting you download, stream, research your next campground or catch up on work while on the road — or even allowing for the kids to keep up with remote school.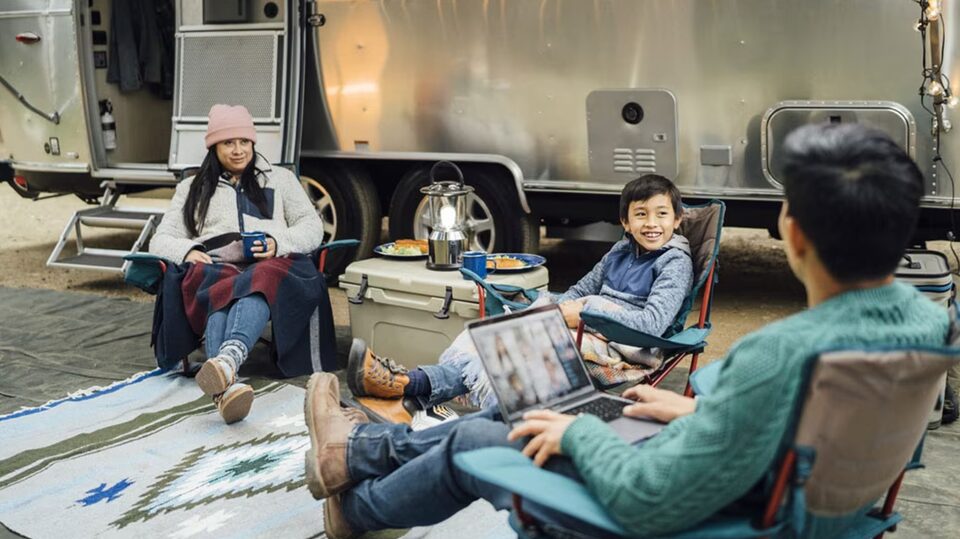 Connected Services* can assist during your vacation in other ways, too. For example, with a connected services plan or trial, you can use your vehicle mobile app* to lock, unlock or even start your tow vehicle (if properly equipped), right from your phone. And the app's Vehicle Status* function allows for checking fuel level and tire pressure (if properly equipped), so you can always be sure your tow rig is ready to go on the next leg of your adventure. Within your vehicle, available Alexa Built-in* helps you safely get things done while on the road: You can play a favourite playlist or add items to your shopping list, for instance — simply ask Alexa.

Have fun

Even when you're off the grid on your vacation, it doesn't mean you have to be disconnected. "It's an opportunity to live a life connected to the natural world around us," says Pickett. "We feel like this is becoming lost on the future generations, and we want to raise a family that is connected to the land."